Honey wants to know...do you need signage?
Yeah, Honey didn't think she did either. But when the good people from
BuildASign.com
contacted us and offered Honey Ham just about any product she wanted from
BuildASign.com
in exchange for an honest review, we reconsidered and suddenly decided that some sort of signage was necessary in our lives!
We've made it simple for anyone to quickly and easily create high quality, custom signage. BuildASign.com's™ customers run the gamut from sole proprietors, mom-and-pop businesses, and non-profit organizations to franchises and major corporations in virtually every industry. We serve real estate agents, developers, construction companies, and insurance agents; retailers, event and conference planners, church and school groups; students wishing to make a statement or residents who want to promote a yard sale, and more.
Sounded simple enough. Honey Ham's mom actually did all the work, though Honey did supervise. It was almost too
easy! Honey Ham (being the selfless puppy that she is) decided to make a little present for
Long Island Bulldog Rescue
. We love LIBR!
There were a ton of different options on the
BuildASign.com
site, but we settled on some 3"X10"
bumper stickers
. Who doesn't love a bumper sticker?
The fun part (for Honey Ham's mom) was designing and creating the bumper sticker. The possibilities were endless! It was easy to create different designs. They had lots of font, color and clip art choices. Here is was we made...drumroll please.....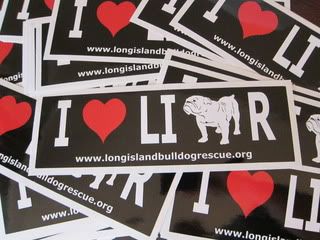 Awesome, right?!
They came in the mail today. There was a little shipping mix up though. Last week (when our stickers were supposed to arrive) we actually received someone else's order. We had to call the company and thankfully we received pretty good customer service over the phone. We were assured that our order would be reshipped...this time to us! I should also mention that our email communications with the company were great too. Customer service is a HUGE deal to us.
The bumper stickers are a thin vinyl which were a little tough to get off the paper backing, but we had no problem getting it on the back of our car!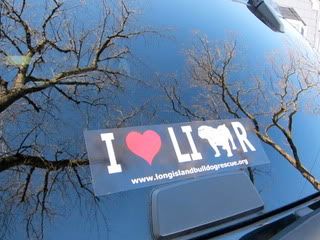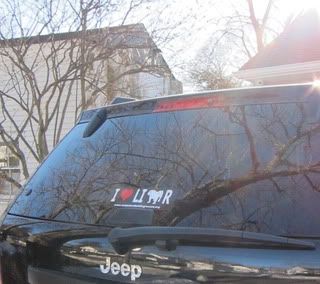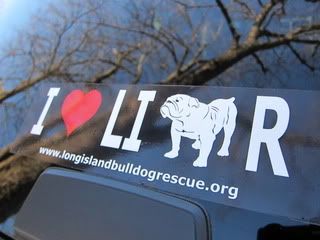 The colors are nice and vivid. The lettering is crisp. Looking good!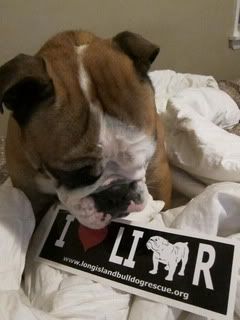 Thanks
BuildASign
! Ham is one happy Bulldog and we know LIBR will love them too.